Hand fans makes the perfect promotional door gifts to give away to employees, guest or clients during events or roadshows, especially when it is held outdoors. Personalise your Hand Fan with your company's logo and company name on it. Not only does it keep everyone cool, but it acts as an promotional product for your company as well.
Have your company name and logo being seen everywhere at events or roadshows as your guests uses the personalise hand fan that you have given.
Down to the details.
There are 5 different die cut options for our hand fans as shown below.

Material: 310gsm Art Card
Size: 178 x 165mm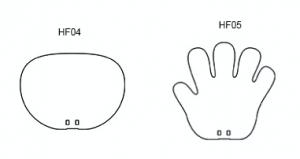 Material: 360gsm Art Card
Size HF04: 178 x 165mm
Size HF05: 234 x 245mm
For lamination, you may choose either gloss or matt lamination on both sides.
Send us your design and we'll print your personalise hand fans for you.
Order now.